SEED IMPRINTING
Seed imprinting is primarily used in non-irrigated desert applications, allowing minimal rainfall to be collected in troughs to help establish seedlings which mature into perennial grasses in severely overgrazed rangelands in southwestern deserts. It provides grazing for livestock and enhances the natural environment while providing erosion control.
Nakae and Associates, Inc. has designed a unique imprinter powered by a 200-horse power tractor capable of making a ten-foot pass. This specialty equipment creates troughs for planting and is capable of applying seed, fertilizer and mycorrhizal inoculum in a single application, maximizing utilization of rainfall to help germinate seed and establish seedlings. This method is not recommended in rocky conditions where rocks prevent the imprinter from penetrating the soil.
click images to view larger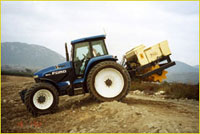 DRILL SEEDING
Drill seeding is the preferred method of seed planting as the seed is placed in the ground, providing more protection and contact with the soil. It requires less seed. Seed metering and placement are the keys to success. Hard slick seeds are metered differently than chaffy or fluffy seeds. Placing seed in a seed furrow at a specified depth is difficult when some species need to be placed at one depth while other species in the same mix germinate best when placed on or near the surface.
In 1998 Nakae and Associates, Inc. began work on a perimeter highway around Salt Lake City, establishing 500 acres of native revegetation in a harsh terrain with little natural precipitation. Using a specially designed seed drill and a special drilling mix on the disturbed areas of the job, the land was drill seeded in the fall and the seeds were able to thrive, achieving excellent root development and vigorous germination in the spring.
During their years in business, Nakae and Associates, Inc. has used various types of seeding procedures for different seed types, sometimes blending different types of seed mixed with a carrier, or doing a combined seeding which required only one application process. With Nakae's expertise, seeding can be accomplished in existing vegetation or untilled conditions, working on slopes as steep as 2:1. Drill seeding can be used in irrigated and non-irrigated applications.
click images to view larger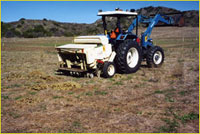 HYDROSEEDING
Hydroseeding consists of applying a "homogeneous slurry" of wood fiber, seed, fertilizer, stabilizing products and water. This method of seeding can be the solution to temporary and permanent erosion control needs and is often used on a construction project when permanent erosion control methods cannot be completed prior to winter rains. Temporary applications can be used to meet BMP (Best Management Practice) needs.
A permanent application to meet particular BMP needs consists of the specified seed mix with Bonded Fiber Matrix. Bonded Fiber Matrix eliminates direct raindrop impact on the soil, insures contact of seed to soil and has a high water retention capacity.
Straw can be tackified to cut or fill slopes using fiber and binder. This method would be used when straw is required but cannot be incorporated into the soil by straw punching due to compaction of soil.
Turf, grassland and shrub seed mixes can be applied by hydroseeding with specified seed mixes combined with specified fertilizers, fiber and water. Nakae's hydroseeders have a sufficient capacity to do any size job, including areas with limited access. They also do aerial seeding and fertilizing and have other specialty equipment for specific seeding needs.
click images to view larger